Clinton Global Initiative University (CGI U) is President Clinton's initiative to engage the next generation of leaders on college campuses around the world. Each year, CGI U hosts a conference where students, youth organizations, and topic experts come together to discuss and develop innovative solutions to pressing global challenges with policy makers, topic experts, philanthropic, and leaders from the public, private, and NGO sectors. Participants attend plenary sessions, workshops, networking events, and a day-long service project. This year CGI U 2018 will take place at the University of Chicago from October 19 to 21.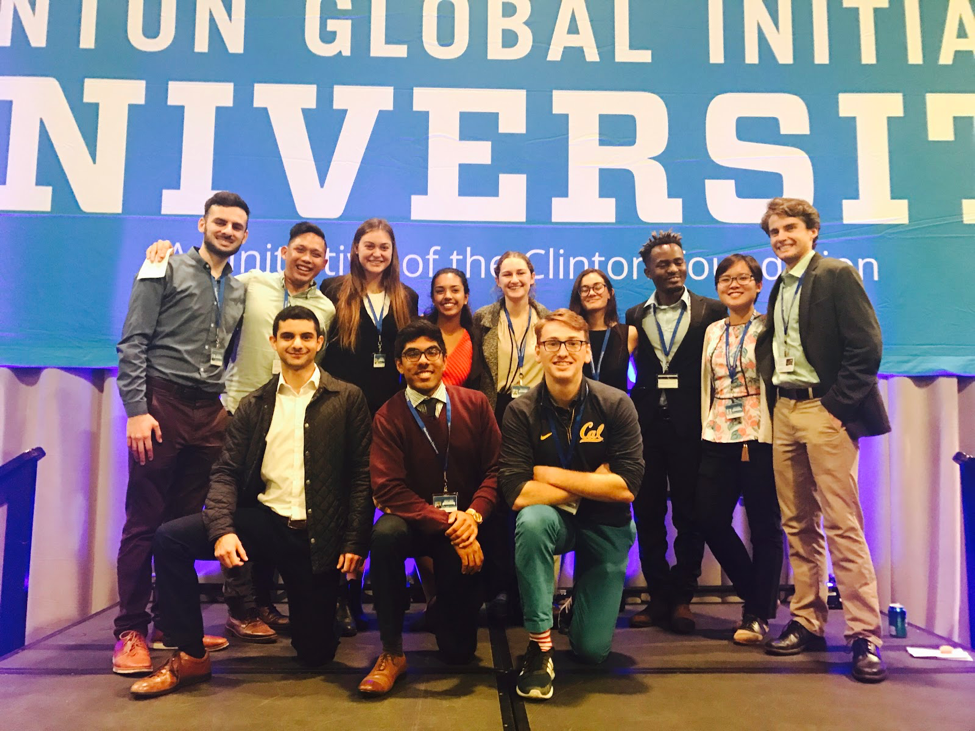 Each CGI U student must make a "commitment to action": a specific plan of action that addresses a pressing challenge on campus, in the community, or in a different part of the world. Students can apply within five focus areas: education, environment and climate change, peace and human rights, poverty alleviation, and public health.
This year, 31 UC Berkeley students were accepted to attend CGI U. Their projects are described below.
Artists in Residents
Students: Monica Schreiber (Public Health), Kyle Gibson (Public Health)
Summary: Artists in Residents (AiR), is an initiative of the Suitcase Clinic, a weekly student-run organization that has been serving Berkeley's homeless community for over 30 years. In response to the mental health needs of this population, AiR seeks to provide arts and music programming within clinic spaces while leveraging the Suitcase Clinic's unique ability to elevate and advocate for unhoused Berkeley residents. The team will partner with local community partners to implement art and music workshops, galleries, and performances. AiR will provide creative outlets for self-expression, promote mental health, and foster self-efficacy and upward mobility. Over one year, AiR will work with 30-50 individuals to provide safe spaces to practice, develop, and showcase their artistic talents. AiR won 1st place in the Art & Social Change category of the 2018 Big Ideas Contest.
Our Campus Kitchen
Students: Lucinda Laurence (Architecture), Sara Tsai (Business), Ibrahim Ramoul (Public Health)
Summary: In the 2018-2019 year, Lucinda Laurence, Sara Tsai, and Ibrahim Ramoul are committed to enact a centralized waste recovery kitchen on UC Berkeley campus. They will establish a closed-loop ecosystem that streams food waste from the dining halls and transforms them into edible meals for students at an accessible sliding-scale price model. The team plans to improve the lives of marginalized students by offering affordable meals while educating more than 35,000 students in food recovery and security. Each semester, they will lead 125 volunteers to make 600 meals daily by transforming 200 pounds of dining hall waste. Their partners include the Berkeley Student Food Collective, Berkeley Food Institute, Copia, Food Pantry, Educational Opportunity Program, University Health Services, and Cal Dining. Our Campus Kitchen won second place in the Food Systems category of the 2018 Big Ideas Contest.
Project S.a.F.E.
Students: Briana Boaz (Biology), Carrie Trible (Biology) Emily Kearney (Graduate Student – Environmental Science)
Summary: In 2018, Emily Kearney, Briana Boaz, and Carrie Tribble committed to eradicating sexual harassment/assault from fieldwork in order to create safe spaces off-campus in which everyone could contribute to science effectively. This team will survey the campus community to understand this issue and will use this information to write a code of conduct and create resources to prevent field sexual harassment/assault in partnership with several UC Berkeley campus organizations. These efforts are expected to reach everyone involved in fieldwork and increase the use and awareness of field preparation resources by 50 percent.
Project Air Mask
Students: Anirudh (Rudy) Venguswamy (Economics)
Summary: Rudy Venguswamy has committed to creating an affordable respirator mask to help reduce the number of people who die due to pollution and biomass burning related diseases in India. The team will sustainably produce a waterproof, fashionable, and functional respirator that people can wear while outside or engaged in hazardous activity. Project Air Mask will partner with hospitals to distribute masks first to pregnant women, young children, and at risk populations. The team expects to reduce the cases of chronic obstructive pulmonary disease and other respiratory infections by 20 percent in 24 months in the states in which this solution is deployed.