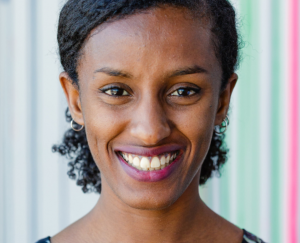 Rediet Abebe joined the UC Berkeley faculty this spring as an assistant professor of electrical engineering and computer sciences, affiliated with the Development Engineering Group at the Blum Center. Abebe holds a Ph.D. in computer science from Cornell University and graduate degrees in mathematics from Harvard University and the University of Cambridge. Prior to Berkeley, Abebe was a junior fellow at the Harvard Society of Fellows.
Abebe's research in artificial intelligence and algorithms focuses on equity and distributive justice. Through her work, Abebe has tackled mathematical and computational problems related to poverty, housing, education, and health. Recognition for her research includes the 2020 ACM SIGKDD Dissertation Award for pioneering the new research area of mechanism design for social good (MD4SG). She was also named one of 35 Innovators Under 35 by the MIT Technology Review and "one to watch" on the Bloomberg 50 list. A native of Addis Ababa, Ethiopia, Abebe's work has already informed policy and practice at the National Institutes of Health and the Ethiopian Ministry of Education.
"The leading question of my research is, how can we use computational techniques – and in particular, algorithmic, optimization, and mechanism design techniques – in conjunction with other disciplines, to support some of the broader societal changes that we want to see?" said Abebe, introducing herself to the Blum Center Board of Trustees last fall. "And to do it in such a way that's mindful of any social harms we might cause, and deeply informed by other disciplines, as well as by those who bear the brunt of the burden of social problems."
Abebe is a co-founder of the Mechanism Design for Social Good (MD4SG) research initiative – a multi-institutional, interdisciplinary initiative bringing together researchers and practitioners from over 150 institutions in 50 countries. Launched in 2016, MD4SG aims to improve equity and social welfare for marginalized groups. In 2017, Abebe co-founded Black in AI, which has grown from a small Facebook group to a global movement of more than 3,000 members and allies dedicated to increasing the presence and inclusion of Black people in the field of AI.
Building on the success of events within MD4SG, Abebe has co-led the launch of the inaugural ACM Conference on Equity and Access in Algorithms, Mechanisms, and Optimization (EAAMO '21) and serves as program co-chair. This new conference, to be held virtually October 5 – 9, 2021, will provide an international forum for researchers, policymakers, and practitioners to come together to highlight and discuss work across the research-to-practice pipeline. (The submission deadline is June 3, 2021).
"It is a great pleasure to have Rediet here. She has been incredibly active," S. Shankar Sastry, Blum Center Faculty Director, told the board. "When she interviewed last year, as far as I could tell every major research university in the United States made her an offer. I feel like we really hit the jackpot in convincing Rediet to come to Berkeley."  
"The very last interview conversation I had was with folks at the Blum Center, and I remember it was an amazing conversation," recalled Abebe. "I walked down from my interview to my hotel thinking, 'Wow, it's done – this is where I need to be.' I am incredibly, incredibly excited to be here."