How do we create enduring prosperity rather than address just the symptoms of poverty?
This is a question that the Chandler Foundation (formerly known as the Cassia Foundation) has been grappling with over the years. On September 5, Leslie Lang Tsai, who serves as the assistant vice president and general counsel of the foundation, spoke at the Blum Center about the challenges of effective philanthropy and the road the Chandler Foundation has taken to achieve it.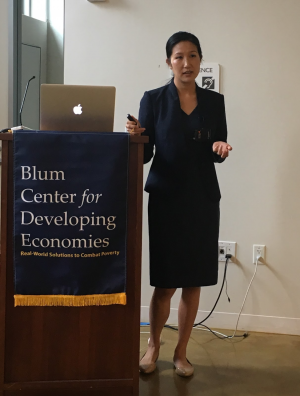 As she addressed the packed room, Tsai, who earned a B.A. in Rhetoric and a B.S. in Business Administration from UC Berkeley, noted there are now more opportunities for Cal students to focus on poverty alleviation and social impact. When she graduated in May 2006, the Blum Center was just about to launch its Global Poverty & Practice minor and the Big Ideas student innovation contest. The landscape of poverty alleviation, particularly on the UC Berkeley campus, was shifting toward ideas about how to understand, build, and maintain effective programs, using a mix of history, social science, and technological innovation.   
Tsai started her talk with a thought experiment, asking the audience of largely undergraduate and graduate students: If you had one billion dollars, how would you use it to eliminate poverty and create inclusive prosperity?
Answers from the audience ranged from unconditional cash transfers to maternal health investments to comprehensive education programs, allowing Tsai to introduce the audience to the Chandler Foundation's method for determining how to invest in effective organizations in the field. She recounted that Chandler Foundation Founder and Chairman Richard F. Chandler, who started his philanthropy in 1997, underwent "four seasons" of giving before deciding to apply a "Business House Investment Strategy" based on John D. Rockefeller's idea that giving is investing.
Richard Chandler and his brother, Christopher Chandler, both successful investors, believed, per Andrew Carnegie's maxim, "It is more difficult to give money away intelligently than to earn it in the first place." Their first philanthropic venture, Geneva Global, became the first "philanthropic investment bank," advising the donor community with the same level of advice they'd expect if they were making an investment.  
In subsequent years, Richard Chandler focused on operating social enterprises as well as supporting social justice leaders before he ultimately created the Chandler Foundation. Tsai said its grant-making program is based on three lessons learned from Richard Chandler's prior social impact ventures: 1) address the root causes of poverty, not the symptoms; 2) "stay in our lane" as investors; and 3) have measurable impact and return on investment.
Tsai shared that the foundation's model is to work collaboratively through partnerships. The Chandler Foundation is a founding donor of the Co-Impact collaborative, along with the Bill & Melinda Gates and Rockefeller Foundations, which aims to address global poverty through systems change solutions. The foundation's approach also places a significant emphasis on encouraging all those involved to hew to the "values at the heart of property: humility, accountability, and integrity."
Near the end of the program, a student from the Global Poverty & Practice minor asked Tsai how best to pursue a career in poverty alleviation. Tsai, who has worked in corporate law at Sullivan & Cromwell and in development at Microclinic International and the World Bank after internships at the United Nations, the African Development Bank, the Supreme Court of Rwanda, and the Special Court for Sierra Leone, shared that a typical career path in the social sector is not a straight line. She advised students to gain expertise and marketable skills in technical areas such as law, engineering, and business, or specific sector expertise in health or urban planning–and to not necessarily focus on how the nonprofit industry works.
Ultimately, she advised, "Develop marketable skills while following your passion and purpose."
The video of Leslie Lang Tsai's presentation about the Chandler Foundation can be viewed here.