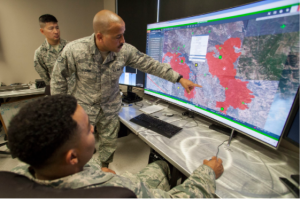 At the beginning of summer, the University of California brought together scientists and faculty from across the UC system for a symposium series to tackle one of the biggest threats to the state: wildfires. With expertise in forest ecology, climate change, and drought, panelists shared how innovations in understanding and modeling fire behavior and other risk factors affect our ability to prepare for, battle, and recover from ever-more-destructive blazes.
"We know fires are going to happen every year, but when and where? Why? How large?" asked Theresa Maldonado, the UC's vice president of research and innovation. "Can we make predictions accurately, understand the complexity of these events, and develop science-informed strategies and solutions?"
Over the last few months, four teams of Cal students and alums have been developing tools for providing real-time fire perimeters, live on-the-ground conditions, and the ability for disparate agencies to submit vital information in one place. 
Before the teams — Perimeter, WICS, FireTrace, and Keep It Simple (KIS) Fire View —  enrolled in the SkyDeck HotDesk program, a UC Berkeley accelerator, they were finalists in the Beat the Blaze hackathon; Perimeter and WICS won the event. Beat the Blaze was hosted by the National Security Innovation Network (NSIN), a program office under the U.S. Undersecretary of Defense for Research and Engineering that connects new communities of innovators, academia, and early-stage ventures together to solve national security problems.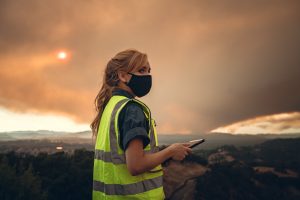 "I feel very strongly about Berkeley students getting involved early in startups that are truly working to make the world a better place and to leverage technology for social good," says Bailey Farren, founder and CEO of Perimeter. "And I think NSIN and Berkeley, as well as the other collaborating universities, did a phenomenal job hosting a hackathon with so many resources to really be a launching pad for so much impact in the public-safety space."
The virtual Beat the Blaze competition, one of several hackathons NSIN operates, garnered over 450 entrants looking to tackle a truly important challenge posed by the California Air National Guard's 163d Attack Wing and Hap Arnold Innovation Center: How might we increase the information-sharing capacity and capabilities between the National Guard and civilian emergency-response agencies during wildfire operations?
"There's civilian data, there's military data, there's Army data and Air Force data — all on different networks, all with different formats, and people like to use what they like to use," says Lt. Col. Michael Baird, director of operations for the 163d Operations Support Squadron. "How do we have that data interact together better and have it talk to each other?"
Participants coalesced into teams and spent dozens of hours talking to frontline responders, the National Guard, and other NSIN mentors and partners about these challenges. Hackathon evaluators winnowed 32 ideas into 10 finalists who pitched their ideas to expert judges from the fire and tech industries and the military. Three winners secured $15,000 contracts with the National Guard to continue developing their solutions.
"Berkeley is a school that has a culture of social impact. Disaster response and humanitarian assistance are very near and dear to the hearts of most Berkeley students and people associated with Berkeley," says Kaitie Penry, the NSIN program director at Berkeley. 
"If you're a Berkeley student, you are living in one of the most wildfire-prone states in the country," adds Kedar Pavgi, NSIN's program manager for its Hacks program. "You're living day-by-day with the outcomes of wildfires and their impact on people's lives."
The challenge for firefighting agencies has never been greater. Last year, over 4 million acres burned in nearly 10,000 fires, forcing evacuation orders on hundreds of thousands of people — all in California. Seven of the most destructive fires in state history have occurred since 2015, including the 2018 Camp Fire that killed 85 people in the town of Paradise. In 2020, blazes across the West Coast caused over $16 billion in damage, and this is nothing to say of toxic air quality and firefighters who have been lost in the course of battling these infernos. Between climate change and worsening droughts, the need for information sharing on the frontlines has never been more important.
"When you send this out to people, you're always worried about, 'Do they understand the problem? Do they understand what we're actually trying to look for?'" says Lt. Col. Baird. "But all the solutions that came in were all very applicable, and it was very hard to come down with the three winners."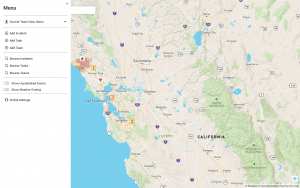 Perimeter: rooted in real-life experience
It's personal for Bailey Farren. The 2019 Berkeley grad's father is a firefighter and her mother is a paramedic. In 2017, the family had to evacuate their Santa Rosa home to escape the Tubbs Fire, which destroyed thousands of structures and killed at least 23 people. As an undergrad, she and fellow Golden Bear Noah Wu founded Perimeter, a mobile platform where first responders can input and share information about an incident in real time, information which can be made accessible to the public as responders see fit. They attracted more Berkeley alumni as they built out their platform. Entering Beat the Blaze felt like a no-brainer.
"We were able to connect with so many industry experts that we hadn't been able to work with in the past," Farren says. "It really clarified a lot of the context around the work we're doing and many of the more nuanced struggles and opportunities that exist in this space."
A key feature is Perimeter's saving newly inputted information for users with limited or no cell service. Many of today's incident-response tools "have been primarily designed as heavy-weight software for decision-makers working with a desktop device and constant connectivity," Farren told judges on Beat the Blaze's Pitch Day. With Perimeter, all levels of incidence response can access vital information. 
FireTrace: the power of machine learning
In December, Ross Luo graduated with a master's in electrical engineering and computer science, with a research focus on artificial intelligence in humanitarian assistance and disaster response. He and his friends, most of whom grew up in California and went to Berkeley, knew the impact of the state's wildfires. "I told them, 'Hey, this is a great opportunity to take our technical backgrounds and try to make a difference in firefighting in California.'"
Through interviews with first responders, they developed Beat the Blaze finalist FireTrace, which takes existing terrain data and aerial imagery of fires from drones to make a constantly updating map for firefighters out in the field. Using machine learning, FireTrace continually improves its understanding of what the boundary of a fire looks like.
"We had to go to office hours every day and talk to different people to really dial in on the problem," says Luo, who now works on deep-learning frameworks at Nvidia. "That way you get an optimal problem–solution match because you're actually talking to people who have problems on the ground. This is a good opportunity to talk to many of them and come up with a solution that solves many of their problems at the same time."
KIS Fire View: removing barriers to adoption
Such tech solutions are a whole lot faster for agencies than relying on static maps tacked up onto boards.
KIS Fire View, another top-10 Beat the Blaze finalist, would also track live fire perimeters, as well as provide the locations of fire vehicles and up-to-date road conditions. Sukh Singh, executive director of The Curiosity Foundation, who entered with recently graduated Berkeley grad students and his Foundation partner, thought it would be hard to update this all-important puzzle piece in real time.
"From speaking to the fire chief, he was like, 'Real time? Right now, I wait a whole day. Fifteen minutes would be phenomenal,'" he recalls. "For the graduate students on the team who were AI specialists, they had the hugest sigh of relief. Fifteen minutes is like infinity for them."
Singh and his teammates wanted to create a tool that was as easily adoptable as possible; they found out from dozermen and other front-line firefighters that they didn't want to have to learn complex new systems (and lose valuable time in the field doing so). So, they designed KIS Fire View as a one-stop-shop digital map that would update every 15 minutes with the live fire perimeter using drone imagery, stream data from the Office of Emergency Services to locate all responding fire vehicles, and incorporate traffic conditions from Google.
"To me, it was a really fantastic learning experience," he says. "Speaking to all the fire services as well as all the people from the National Guard and FEMA was hugely educational for both me and the graduate-student team I worked with."
WICS: faster firefighting funds
Shreyas Krishnaswamy, an electrical engineering and computer science undergrad, was interested in applying CS and tech to huge problems like climate change. He had participated in hackathons with his high school friends before, and they were all interested in sustainability. After he saw a College of Engineering email mentioning Beat the Blaze, Krishnaswamy called them up. "We got the gang back together," he says.
In talking to stakeholders during the hackathon, they learned that local and state agencies can, in some cases, file papers with the federal government once a fire has started to get most of their firefighting costs covered via the Fire Management Assistance Grant, but they coordinate this through a patchwork of communications.
"The main problem is that it costs time on the front end for people at the local level, the state level, and the federal level to synchronize and get the information to wherever it needs to go to," Krishnaswamy says. If information gets lost in translation, it can delay the FMAG's approval.
Their solution, Wildfire InfoComm Service (WICS), provides a single tool where every agency involved in this process can sign in and provide their information for easy submission to the feds. A quick approval, Krishnaswamy points out, reduces the burden in the back of officials' heads about whether they will have to shoulder all the firefighting costs.
Despite only beginning to learn about FMAGs during their stakeholder interviews and expecting the hackathon to be an all-student affair, the Berkeley–UC Irvine–King's College London team developed a solution that beat out established tech companies to join the three-team winner's circle.
Going beyond the concept and out into the field 
Since the competition, WICS, KIS Fire View, and Perimeter have continued working with Beat the Blaze mentor and judge Thomas Azwell, a Berkeley environmental scientist building a disaster lab to focus on wildfire technology.
Additionally, Kaitie Penry, the NSIN university program director at Berkeley, introduced WICS, KIS Fire View, and FireTrace to SkyDeck, a UC Berkeley accelerator, where the teams continue to receive mentoring and guidance, including from NSIN stakeholders they met at Beat the Blaze. Perimeter was readmitted to the program after a stint there a year and a half ago.
Singh says the KIS Fire View team was about to shelve their project after the competition. "Because [Penry] was willing to push it and give us the resources to make that possible," he says, "I think she's totally the catalyst who ended up pushing us forward to be like, 'Yeah, we can probably pull this off.'"
Without access to some of the data and relationships KIS Fire View had enjoyed during the competition, Singh's team is pivoting to focus more on an army of hillside cameras across the state that monitor the environment for smoke and fire; an eventual web app could drastically reduce the number of camera feeds that agencies have to monitor. Singh says Marin County, whose disaster-response officials he had already been in contact with, is interested in the project, and he can see businesses like fire-country wineries wanting to get in on a system that can prepare them for the worst.
The WICS team, meanwhile, hopes to field test its system in August or September as it continues to compile subject-matter expertise from contacts as far-flung as Washington state, Colorado, and North Dakota. And the FireTrace squad is working with the National Guard to receive data on which to train its AI model.
With two extra years of development under its belt, Perimeter has already been developing and testing its platform with the Palo Alto Office of Emergency Services and recently closed $1.2 million of early-round investment funding. "Some of the major opportunities that are presented by having this contract is really being able to have a continued dialogue with the stakeholders that sponsored Beat the Blaze," Farren says.
Each team acknowledged that, at the end of the day, it all came down to helping those very stakeholders.
"Even if this tool's able to detect one fire early and prevent one disaster, that's absolutely worth it," Singh says. "To be able to build something that might be able to help with that side of things and potentially save just one or two people or save someone's home, that's really exciting."