Career paths are both visible and hidden to UC Berkeley students, probably because college is both a time to prepare for the workplace and analyze its history. At the Global Poverty & Practice (GPP) Post-Practice Retreat on September 7 at Blum Hall, five GPP alumni shared their experiences navigating work and life after Berkeley. The retreat provides support for current GPP students as they consider their personal and professional  journeys at Berkeley and beyond.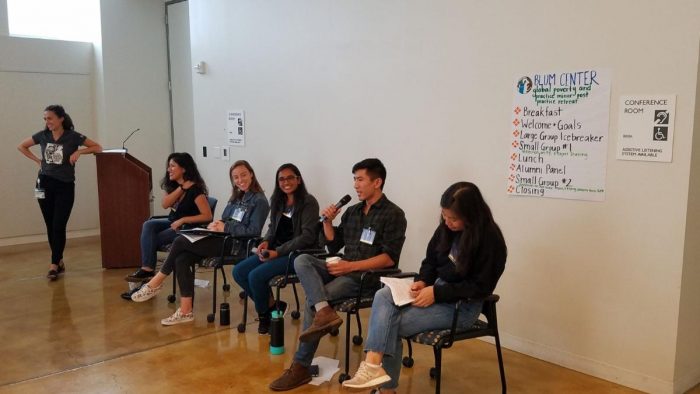 Amber Gonzales-Vargas, now a senior program manager at the Latino Community Foundation, said she sought work with an organization whose values aligned with her own and that could allow her to create solutions to systemic problems present in the United States. She also wanted to work locally and serve Latinx communities. At the Latino Community Foundation, Gonzales-Vargas says she is inspired and challenged each day to push through barriers to enact greater change within Latinx communities. She also said she is constantly being challenged in how she approaches problems—learning from which she adopted from her GPP coursework and practice experience.

Similarly, Priya Natarajan says she considers her work with Teach for America a "long-term practice experience." Since being placed to teach elementary special education at a Voices Charter School in the Bay Area, Natarajan says she has been reminded of the power and the value of community, a theme commonly discussed in GPP coursework. Teaching special education has also made her reflect on the GPP minor's emphasis on structural and systemic failures and the power dynamics present within the workforce.

Like Natarajan, panelists Jennifer Fei, Ryan Liu, and Alison Ryan spoke about their own journeys after graduating from UC Berkeley and echoed the sentiment that figuring out the best fit professionally requires experimentation and a lot of trial and error.

Jennifer Fei, currently a program manager at the Immigration Policy Lab, shared her experiences working at Berkeley Consulting and Goldman Sachs as well as her decision to get a master's degree in international policy from Stanford University, which helped her land her current job managing the Lab's refugee research portfolio. Fei's advice to GPP students is to never underestimate the importance of putting your best foot forward in every project and professional relationship. Fei said people are willing to advocate for you when they remember your quality of work. Fei also advised GPP students to make space for themselves by attending to their mental well being. Gonzales-Vargas agreed that making space for herself allows her to better serve the communities she represents. She says self care "helps to build my resilience and in spaces where I may otherwise have thought there was no hope."

Similar to Fei, Liu's postgraduate experience was not linear. Liu graduated from Berkeley with a B.S. in mechanical engineering, but was interested in finding work outside of what he saw as the rigid structure of the field. As a result, he explored an array of industries—from working at an NGO in Nicaragua to taking on positions in corporations, startups, and national laboratories. He eventually completed a master's degree in mechanical engineering from Georgia Tech. Liu is now a product designer at Fenix International, an energy and financial inclusion company with offices in San Francisco, Kampala, and Lusaka. He says the completion of the GPP minor has allowed him to develop a more critical lens, one that encourages him to question power dynamics and to evaluate his own role within hierarchies.

Like Liu, Alison Ryan says GPP is ever-present in her work and shapes the way she thinks about and interacts with the world. She said that the GPP minor has heightened her awareness of problems with equity and how employers can contribute to making people feel valued. Ryan graduated from Berkeley with a degree in political science, and went on to receive her master of public health in epidemiology from UCLA. Ryan now works as a surveillance officer at the California Emerging Infections Program. Like fellow panelists, she said the trajectory of her career was much different than what she had anticipated during her undergraduate days at Berkeley. "You refine over time what you want and what you're looking for and that changes as your career develops," she said.

— Dalia Elkhalifa