Distinguished scientist, Cabinet secretary and Nobel Prize winner brings national, global policy perspectives to next generation of global citizens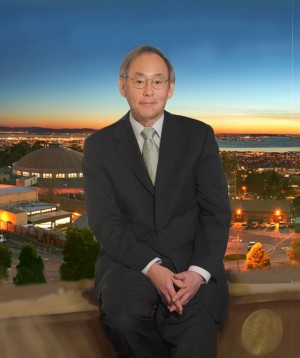 Berkeley, Calif. (August 1, 2013) — The Blum Center for Developing Economies, a leading center for global poverty studies and innovative global development solutions, today announced that Dr. Steven Chu, former U.S. Energy Secretary and co-winner of the Nobel Prize for Physics, is returning as a member of its Board of Trustees. The distinguished scientist will provide important perspective and guidance on the future of the Center and its role in shaping future changemakers to address challenges faced by the world's poor.
"We are very pleased to have Dr. Chu rejoin our board," said Richard C. Blum, Founder of the Blum Center. "To have someone of his stature and his level of scientific achievement will be a tremendous asset as we develop and offer world-class programs and innovative courses to this generation, who feel compelled to confront issues of global inequality."
Dr. Chu served as Trustee for the Blum Center from 2008 to 2009. He is currently Professor of Physics and Molecular and Cellular Physiology at Stanford University. Prior to his appointment, he served as the U.S. Secretary of Energy from January 21, 2009, to April 22, 2013, during which time he was charged with helping implement President Barack Obama's agenda to invest in clean energy, reduce the country's dependence on foreign oil, address the global climate crisis and create millions of new jobs.
"Dr. Chu brings a wealth of experience working on sustainable energy solutions and novel technologies," said Shankar Sastry, Dean of the University of California Berkeley College of Engineering and Faculty Director of the Blum Center. "His knowledge will greatly enhance the Blum Center's work in leveraging the talent of faculty and students—particularly those in the STEM fields—toward global development, and will help us build up the innovative field of development engineering at UC Berkeley."
Prior to his Cabinet post, Dr. Chu was the Director of the Department of Energy's Lawrence Berkeley National Lab, where he led the pursuit of alternative and renewable energy technologies. He also taught at UC Berkeley as a Professor of Physics and Professor of Molecular and Cell Biology. Previously, he held positions at Stanford University and AT&T Bell Laboratories. The award-winning scientist is the co-recipient of the Nobel Prize for Physics (1997) for his research for the cooling and trapping of atoms in laser light.
The Blum Center's Board features many dignitaries, including former U.S. presidents, Cabinet members and senators; former government officials from foreign nations; and global business leaders, innovators and entrepreneurs. In addition to Dr. Chu and Mr. Blum, the list includes Board Chair Laura Tyson, Professor in the UC Berkeley Haas School of Business and Former Chair of the President's Council of Economic Advisors; Former U.S. Secretary of Labor Robert B. Reich; Former U.S. Secretary of State George Shultz; Caio Koch-Weser, Vice Chairman, Deutsche Bank Group and Former Deputy Finance Minister of Germany; Former U.S. Senator Thomas A. Daschle of DLA Piper, LLP; and Vinod Khosla, President of Khosla Ventures, among others.
About The Blum Center for Developing Economies
Established in 2006, the Blum Center for Developing Economies cultivates and educates the next generation of global citizens to be agents of change in the struggle against global poverty. Its mission is to improve the well-being of three billion people in the world who live on less than two dollars a day by designing and developing sustainable solutions to tackle the toughest poverty challenges. The Center brings a rigorous multi-disciplinary approach and real-world applications to the classroom, lab and into the field. With its combination of unrivaled disciplinary depth and breadth, cutting-edge thinking, and the University of California's unique culture of global engagement, the Center translates and applies innovative research to solving the world's most pressing problems. More information at http://blumcenter.berkeley.edu/
# # #
Media Contacts:
Fred Muir, For Blum Center
310-278-9321 Office
310-600-8954 Cell
fred[at]fredmuir[dot]com
Christie Ly
917-617-2437 Cell
christiely3[at]gmail[dot]com