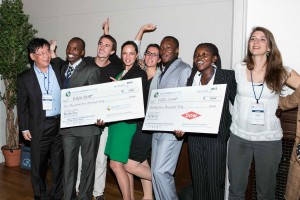 Congratulations to Faso Soap, Grand Prize winner of the 2013 Global Social Venture Competition (GSVC) and winner of the Blum Center People's Choice Award! At the April 12th GSVC Global Conference, the team behind the anti-malaria initiative was awarded $26,500 in prize money to jump-start their business. Faso Soap is the first non-American team to win GSVC.
Faso Soap team members Moctar Dembélé and Gérard Niyondiko, students from Burundi and Burkina Faso, have developed an innovative mosquito repellant solution made with natural ingredients that are available locally in Burkina Faso. This solution, added to locally manufactured soap, provides a very accessible, low-cost anti-malarial tool.
With upwards of 300 million malaria cases each year globally, the mosquito-borne disease remains a significant—but preventable—health threat. In sub-Saharan Africa, where malaria is a leading cause of death, many families living on only a few dollars a day are unable to afford mosquito repellants and anti-malarial drugs. For this reason, Faso Soap is an incredibly important innovation in the ongoing fight against malaria.
The Global Social Venture Competition provides aspiring entrepreneurs with mentoring, exposure, and $50,000 in prizes to transform their ideas into businesses that will have positive real world impact. Founded by MBA students at UC Berkeley's Haas School of Business, the GSVC culminates each year with the Global Finals and Conference at Berkeley in April, gathering teams from around the world and Bay Area professionals for a day of learning and networking. GSVC has evolved into a global network supported by an international community of volunteer judges, mentors and student organizers and a partnership of premier business schools in the Americas, Europe, Asia, and Africa.
The Blum Center applauds Faso Soap and the other GSVC winners and wishes them well in their exciting social ventures! Watch their pitch videos at the links below.
Full list of 2013 GSVC winners:
Center for Responsible Business Quick Pitch Award ($1,000):  Jorsey Ashbel Farms – Nigeria
Blum Center for Developing Economies People's Choice Award ($1,500):  Faso Soap – Burkina Faso
Third Place ($7,500): Pulp Works – USA
Second Place ($15,000): Carbon Roots International – Haiti
First Place ($25,000): Faso Soap – Burkina Faso