Author:
Kate Lyons
Gram Power, a company incorporated in 2012 by campus graduates Yashraj Khaitan and Jacob Dickinson, is expanding its reach with help from the Blum Center and United States Agency for International Development (USAID). The company's mission is to provide affordable electricity to thousands of individuals who have restricted access to power in rural India.
Areas with little access electricity rely on kerosene — a dangerous and unhealthy power source. Gram Power offers communities "pay as you go" electricity. It is a system of micro-payments based on the successful model of prepaid cellular phones connections by Indian telecommunications companies. This "pay as you go" system is designed for low-income workers who earn a daily wage, providing them with access to green energy without a large up-front investment.
Yashraj Khaitan graduated with a degree in Electrical Engineering and Computer Science (EECS) from UC Berkley in 2011. During his time as an  ndergraduate, Khaitan was involved with solar cell research at Lawrence NationalLabs and helped found the UC Berkeley chapter of Engineers  without Borders.
Jacob Dickinson, also a graduate of the EECS department, is the head of Gram Power's technical development. As an undergraduate, Dickinson led the UC Berkeley's Solar Car Team's electrical division.
The two first met at a training session for UC Berkeley's Solar Car team in early 2010, where they discussed Khaitan's experience participating in grassroots projects with villagers in rural Rajasthan; a large desert state located West of New Delhi. It was from this experience that Khaitan's idea to develop a sustainable electricity project arose. Upon hearing the pitch, Dickinson's interests were enlivened, and he became immediately involved with the project, developing technology and seeking product validation.
"I first understood their needs, evaluated current solutions, decided on a price point that would be affordable and then started concept design," Khaitan said.
Gram Power's smart stackable battery, called an MPower, is a portable storage system made up of a battery and "smart power" conditioning circuitry. Small and lightweight, MPower fulfills Gram Power's two main objectives – creating a power source that is flexible (can be used for powering more than lighting) and energy efficient. By reducing power consumption with efficient green technology, Gram Power enhances the individual's investment and contributes to a cleaner environment.
The MPowers can be charged from a conventional power grid, a micro grid, solar panels or a bicycle dynamo. A fully charged MPower can charge a cell phone and provide power for lamps and fans; a fully charged stacked battery can power a television or computer. Gram Power believes its energy solution will impact communities' light and communication capability, resulting in more education, work productivity and higher earning potential. The power is renewable and clean, providing environmental and health benefits, while Gram Power's business model encourages local economic growth by employing individuals from each community as Area Sales Managers.
"Our main concern was affordability and utility. We wanted to design something that provided high utility at the right price," Khaitan said.
Development and funding of the project began at UC Berkeley. After discussing his ideas with professor of Computer Science Dr. Eric Brewer in 2010, Khaitan began working with Dr. Brewer and the UC Berkeley research group TIER (Technology and Infrastructure for Emerging Regions). TIER designs and deploys new technology that helps addresses a particular region's environmental, political and/or economic concerns with innovative hardware and software infrastructure.
In 2011, Khaitan and Dickinson decided to enter Gram Power into Big Ideas @ Berkeley, an annual, campuswide prize competition that provides funding, support and encouragement to interdisciplinary teams with innovative ideas. Dr. Arthur H. Rosenfeld, former Professor Emeritus of Physics at UC Berkeley and Chairman of the California Energy Commission judged the competition, and selected Gram Power for First Place in the Energy Efficient Technologies category. Gram Power was provided seed funding from the Arthur H. Rosenfeld Fund for Global Sustainable Development and the UC Berkeley Blum Center for Developing Economies.
"Apart from providing significant financial support to deploy our systems in the field in India, Big Ideas helped us think through our business model thoroughly," Khaitan said. "The feedback and advice repeatedly made us aware that technology is not the most important thing – creating affordable and sustainable access is."

With the support and advice of the Blum Center and the Arthur H. Rosenfeld Fund, Gram Power emerged in Rajasthan, India. To continue growth, Gram Power entered and won the LAUNCH: Energy Challenge, an initiative founded by USAID and its partners in 2011. The LAUNCH program identifies groundbreaking innovations in sustainable and accessible energy solutions and provides them with financial resources and project guidance.
"LAUNCH helped us launch!" Khaitan exclaimed. "It got us our first round of angel funding, helped us expand our network of advisors to leading figures in this sector from around the world… they worked very closely with us for 6 months after the event to help create access to the people and resources we needed to achieve our long and short term goals."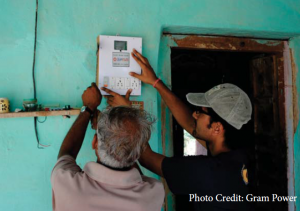 Gram Power is now focusing on smart microgrids– localized electricity production centers that are smaller and more efficient. In May 2012, Gram Power launched India's first smart microgrid in Rajasthan with great success, and are currently planning with the local Rajasthan government and the Central Government of India to increase microgrid deployments. They are simultaneously working with the Blum Center, USAID, the Center for Effective Global Action (CEGA), and TIER to rehabilitate 80 existing solar microgrids in Rajasthan. During the microgrid restoration, Gram Power and TIER will conduct extensive research evaluating different technologies and business models, in pursuit of a refined, sustainable method to provide reliable power to rural communities.
By the end of 2012, Gram Power plans to expand MPower units and microgrids to other states in India such as Uttar Pradesh, Haryana and Bihar.
Gram Power's current projects are successfully providing reliable and affordable electricity for thousands of people, and Khaitan hopes to reach millions in the future. "We're looking to continue deploying our smart grid system on existing microgrids," Khaitan said. "Eventually tackling the existing Photo Credit: Gram Power national grid in India."